Guess what.
It's another blooming drum. Or rather...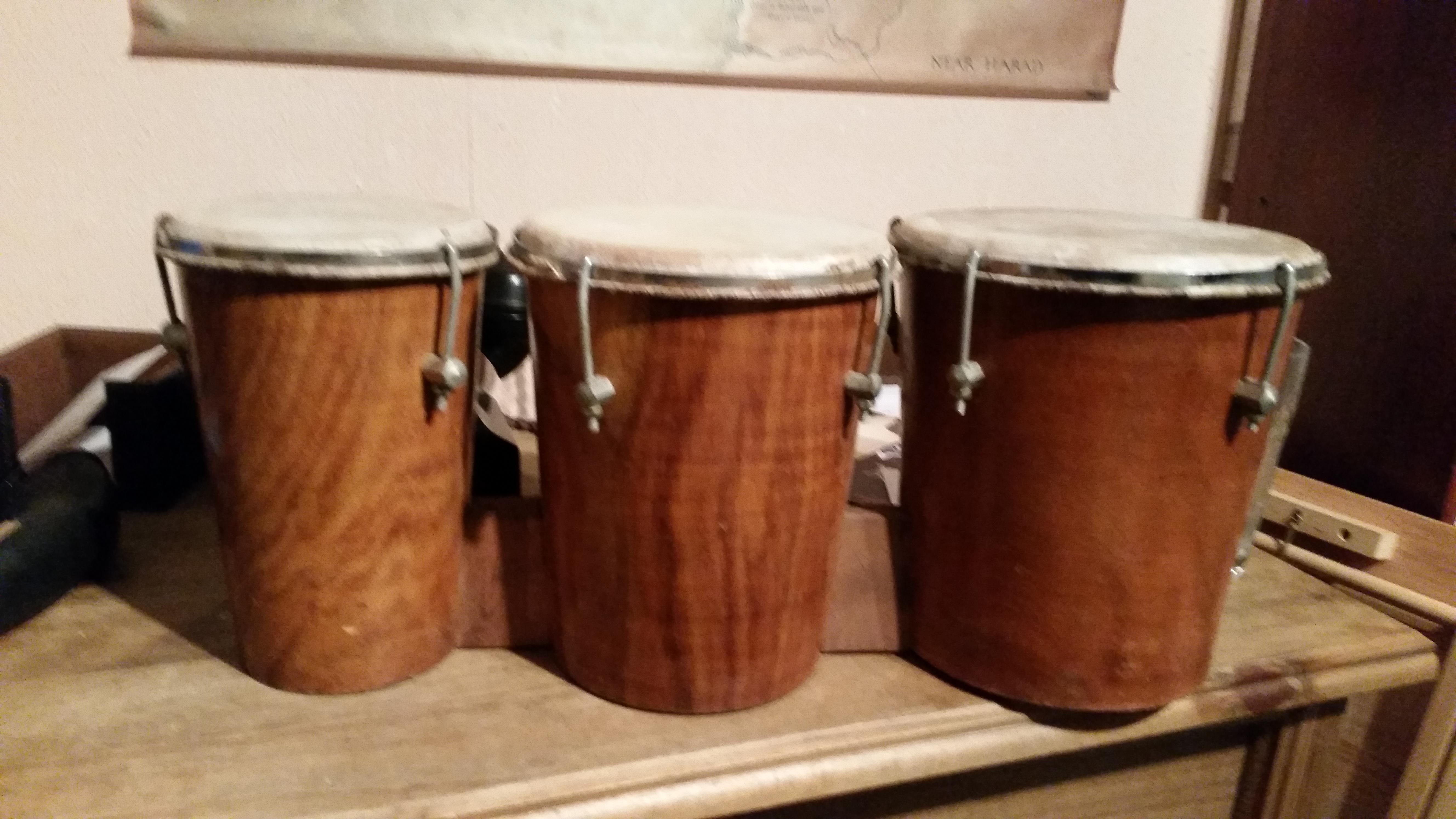 ...whatever this monstrosity is called. I've seen bongo drums in pairs; I have no idea what a set of three is called.
Seán and I were walking past the local market when he gave this excited shout of "Annette, look left: there are drums!" I looked and I thought I initially saw two pairs of bongos, presuming one was behind the other. Then we came up close and then we saw... well, this. It was going for £15, we needed a replacement for our bongos, and this was too good an offer to pass. We did give it a little test play before buying it -- it sounded lovely, but to be fair, it was a cold, wet, windy day, and this market was an outdoor market, so it wasn't a good benchmark for what its actual sound was.
We put this in a heated room just to let the skins dry out, and then I gave it a bit of a play. I can safely say that even when it's warm and dry, it sounds marvellous. I'd like to do a demonstration of sorts sometime, once it's restored, and if everything goes to plan, I might throw in the other percussions we have. Might. And if that goes to plan, I hope to push Seán's camera skills to the limit...
---
In other news, I'm slowly healing from that depressive period. I can't say I know how well I'm doing -- only that I am feeling and looking at things better than when I last wrote. I've been spending the last few days finishing off Jak & Daxter: The Precursor Legacy, but not up to 100%. If anyone has tips on how to get some of these elusive Power Cells, I'll be very grateful.
I'm now revisiting Final Fantasy X, a game known for its in-universe strawman dialogue. And awesome battles, awesome music, and RPG character stereotypes. Let the fun times roll!