Don't be fucking snobs.
I've heard people making threads and things like these where they bitch about animators not wanting to work for free, like this, which is completely justified given the amount of time, effort etc. goes into animation.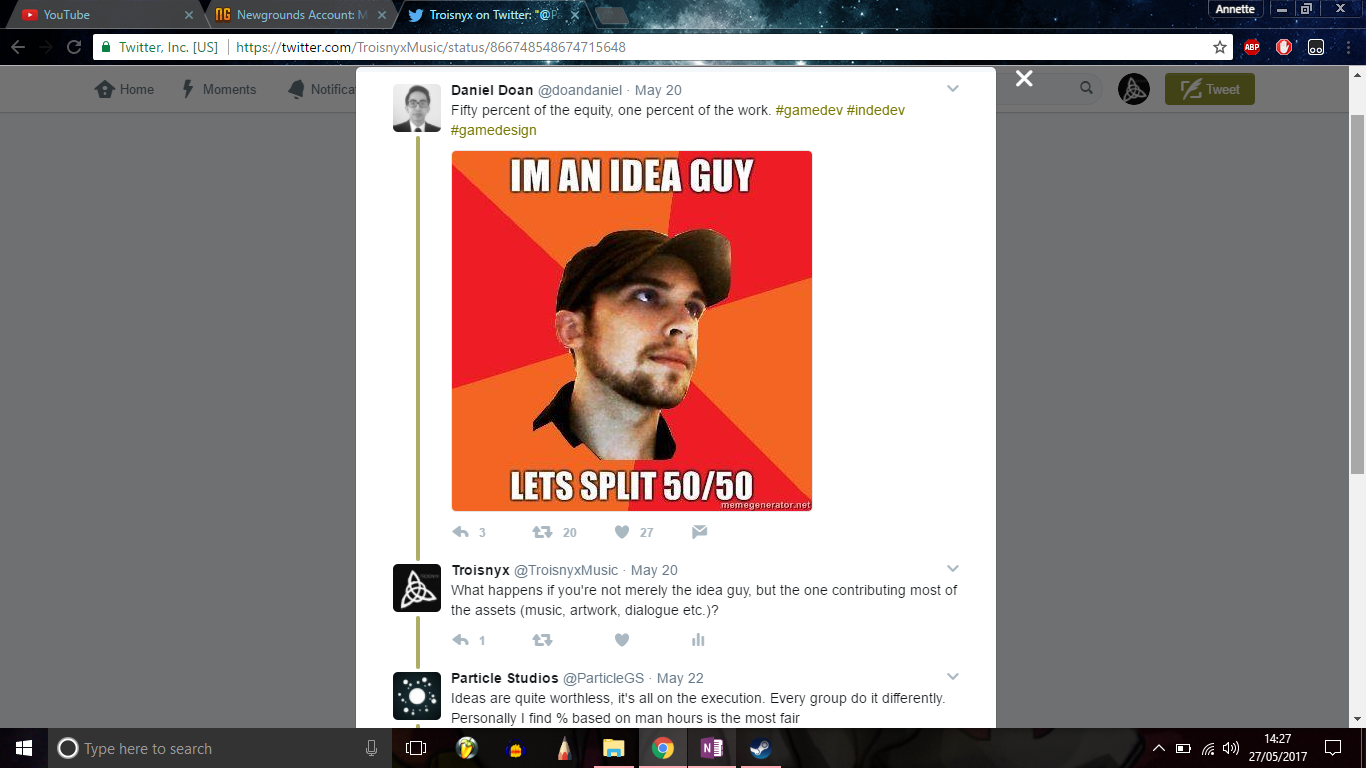 Trouble is, you fuckers never account for when idea guys are far more than idea guys, giving you precious music, artwork, VA and writing for this sort of thing. I have had people say to me that they're not willing to pay diddly squat to anyone who comes up with ALL THESE OTHER THINGS, just because they're animators and therefore have to get all the profit because otherwise nothing justifies working with an animator. I have had this experience multiple times over the five-plus years that I have been on Newgrounds.
Yes, because if you're a musician, or a visual artist approaching an animator to work together for any reason (read: NOT MERELY AN IDEA GUY), your craft will still be considered as diddly squat by animators. Fact. I've been through this many times before and I cannot begin to tell you how heartbreaking it is.
When @matt-likes-swords released Epic Battle Fantasy 3 and was on the way to releasing EBF4, there were a number of us who sat together and did a massive collaboration, a tribute to what started on NG and grew into a really accomplished series of games in our eyes. Guess what: the musicians and the artists were all game for it. The animators? "Oh give us fucking money." I remember even collecting together an entire playlist of songs from the failed EBF collaboration, all of which never got used. Many of the songs have since been deleted, which meant I could only find five out of all the songs that had been submitted. Yeah, nice of you lot to piss on people's hard work there.
Um, I've got news for you: musicians, artists, voice actors and writers deserve their fair wages as well. If they're coming to work with you, they too are hoping to earn something as much as you are. Cut them some fucking slack. Just because you spend the longest time on your craft, doesn't make our craft any less worthy of payment, recognition or acknowledgment than yours. We spend our time actually working our arses off just as much as you do.
In fact, we say the same things to other people as well, we roast those who want completely free gigs unless they really cannot provide for one reason or another, but sometimes artistic camaraderie takes over. Not always, but sometimes. This never happens with animators unless it's something huge like the NG 20th Anniversary Collab. In all my experience across the Art, Audio, Writing and Animation forums, I've noticed that those doing art, audio and writing are more willing to accept people's sincerity on face value. Animation, however? Money, money, money, all the fucking time. Most animators I've come across have assumed that everyone has worked out the logistics of crowdfunding, the making of Patreons, or even just the means of working out record labels when even those people are struggling. I know animators need to put food on the table, but so do the rest of us, mate.
Don't get me wrong; you're justified in asking that, because it is, after all, the most time-consuming craft. Oh wait, actually, the same could be said for music, duh! Lots of effort and lots of patience goes into one minute, never mind thirty seconds of the bloody stuff. I hear people on the Audio forum complaining every so often that musicians etc. are treated like shit all of the time; in my mind, the biggest example of this is when you're trying to just do something fun with someone creative for any reason whatsoever, only for them to treat your craft as mere nothing and ask you to pay up just because you're somehow dealing with a bigger fish, HOW and WHY exactly?!
So, to ask for moolah, and to never be relenting to those who are sincere in offering their own talent to actually boost yours?
You know what? Just to protest, I'd be happy to actually get more musicians, artists etc. to REJECT your bid for making artwork, finding music, getting writers, if you should ever come across those forums again. Perhaps some of us should even say "oh, you animators are just nothing more than idea guys." Maybe that'll make you feel what it's like to be in our shoes for once.
Animators and programmers get the brunt of the attention on Newgrounds because well, their media is far more visual, and a darn sight more interactive than musicians and other visual artists. But if you aren't musicians and visual artists yourselves, you wouldn't get far without musicians and visual artists. So if they come up to work with you, and they're struggling, don't fucking dismiss them. You'll only alienate them.
I mean, for my part, apart from something I really have love for, I don't contribute to games and animation. If my craft is going to be pooh-poohed on by some supposedly bigger fish, then what's the fucking point?