To begin, I told my fiancé Seán (who had begged me to write something for months on end) that I'd write something once I reached 700 fans. That day is finally here, and follower number 700 is @Cyberdevil. Thank you for all the support ;_;
I'd been mentally shot for a long time, and past newsposts can explain why.
---
My birthday fell on the 12th, and it was a good one. An intimate party with Seán and six other friends in the house, having pizza and playing Cards Against Humanity. Outside of the chocolates and alcohol that I received, I also got a project book, a small case of art supplies, and a toy bow and arrows! (Adult-sized, of course, and with rubber tips on the arrows. Still gotta handle with caution.)
I'll be using the project book for music video projects and anything of a large scale. Speaking of music videos, there is one I'm planning right now. #ReReveris
I am also in the midst of reworking https://troisnyx.co.uk/ -- so you likely won't see any updates from there for a while yet. Those of you who have been following the progress on my Discord server and in other chats will have noticed that I've been drawing and trying to figure out what the new layout should look like. I've been heavily at work of late -- just unable to express it all in words, and it's been hard to write this post because of all the ideas swimming in my head.
Here, have a teaser of what it might hopefully look like. Yes, I use Wix. I don't think it's any secret, really.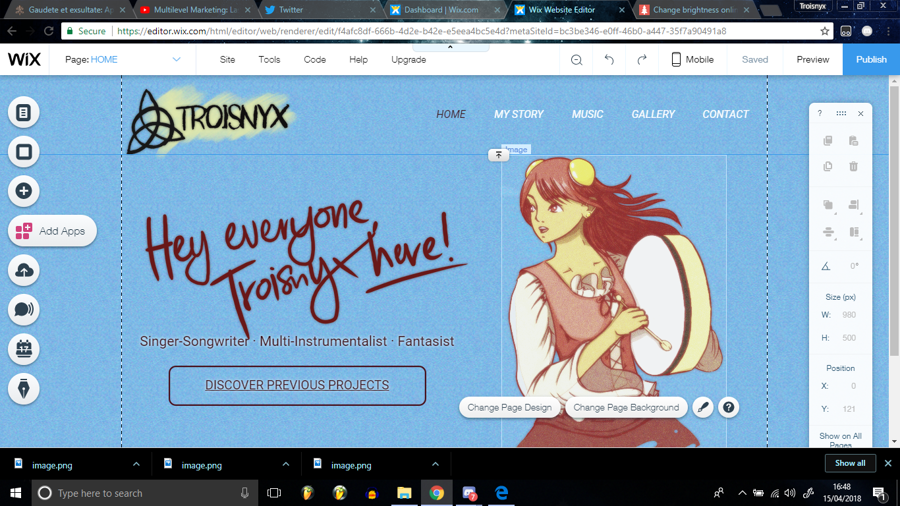 ---
Now, on to Newgrounds-related stuff.
First:

The Newgrounds Audio Portal 15th Anniversary drama is plodding along; the music is coming along reasonably well for people mostly stuck with exams. The voice actors for Pico, Nene and Darnell have been confirmed -- namely @Raayo, @jessieyun0404 and @RealFaction. Work has begun on the voice acting.
The person chairing this project -- @Whirlguy -- and I, we both have been keeping track on all the workings of the project. Jessie Yun is still casting minor roles, if I recall correctly. @SourJovis is ironing out inconsistencies in the otherwise finished script, and I have been doing my best to assign music to people according to the script.
There are meant to be four episodes of the audio drama, each lasting about 40 or so minutes long. Hopefully, all being well, Act 1 should be up around the time of Pico Day. We'll release the others periodically thereafter.
OH BY THE WAY: Are there any female voice actors out there who can pull off, or have a native British or Irish or continental European accent? We are looking for one female VA with any of these accents to join us!
Second, moderating.
With everything that I've been involved in, moderating has slowed down for me. I do occasionally see the flags and remove what's on there, and sometimes I've been proactive and looked for tags containing potentially offending songs (e.g. NCS, Daft Punk) in the search bar. But of course, my priorities at the moment to go my bigger projects. One of them is the audio drama I spoke of above. The other is right below.
---
I have been taking part in a doujin circle called A Reyvateil's Melody. Which has something to do with the Hymmnos language from the Ar tonelico games.
Yes, after seven years of not touching Hymmnos and Ar tonelico with the end of a barge pole, I got drawn into it; I was actually invited into the group in January this year after its members had watched the Mio/Homura music video.
Now they're quite new to the scene if I remember this correctly, and the last thing they did was called COSMOCRYSTAL II ~ clalliss re leat, maya re pat - 奏響濫色 (Soukyou Ransyoku). The kanji has multiple meanings, but one of its sounds means 'reflective indigo'. Among Hymmnos circles we call this 'Side Blue' because through all the games, the soundtracks have been released in two halves with separate themes, Side Blue and Side Red.
I had no involvement in Side Blue, but the crossfade of what they've released so far is below.

I will, however, have involvement in Side Red -- I have composed, and am in the midst of recording the opening track to Side Red. It's called Ocurp Omnis, which in the Hymmnos language means 'the flow of everything.' You can hear a short, relatively unmixed preview of it here.
A Reyvateil's Melody are completely nonprofit. None of us individuals earn a penny from the distribution of this. Any and all sales are basically handled by our publicist in Japan, and all doujin creations basically get distributed at Comic Markets (or Comikets for short; you may have heard about those). They take place in a few parts of Japan and happen during the summer and the winter. We're hoping to get Side Red of COSMOCRYSTAL II distributed at the Summer Comiket. All the proceeds basically go into a kitty that allow us to produce more -- and again, the publicist handles the funds altogether. As for the rest of us? We do it for love of the music.
I do have one thing to say about the doujin culture: only in Japan will you get people making comics, whether for profit or otherwise, about Batman fighting Godzilla, and none of them will be slapped with a takedown request, DMCA, or any of that shit. Doujin is like self-publishing, but with a lot more respect attached to it -- and there's an immense grassroots movement for indie support. Doujin is either original or parody under Japanese laws, and this enables it to flourish. Look up "Comic Market" on Wikipedia and you'll realise just how immense the gatherings are; that's how much they're supported. If something like that were to happen in the West, it'd be slapped down immediately -- unless, of course, there's a big enough lobby that supports something like this and gets it going and makes it an annual thing.
And for the part of A Reyvateil's Melody, we're quite new on the scene, having been only active for... is it two years? three years? and there's at least 1,000 Japanese fans, to say nothing about the scant few international fans scattered in different parts of the world. It's mind-boggling that we got that kind of support that quickly.
---
With regards to other things, like Une Nouvelle Chance, those are coming along. We're just having trouble mixing them. But hopefully, we should see some results by the summer!
I also have a few original things planned, but will go into them in more detail after some of the pressure has been taken off my shoulders.
Anyway, that's it from me for now. How have you all been?
Subscriptions: @Mich @ADR3-N @Akuaitance @ChazDude @RealFaction @BraydogNG @Cyberdevil